Experimental Set-up for Intravital Imaging 
The Kits:
The Vacuum Window Kit #1: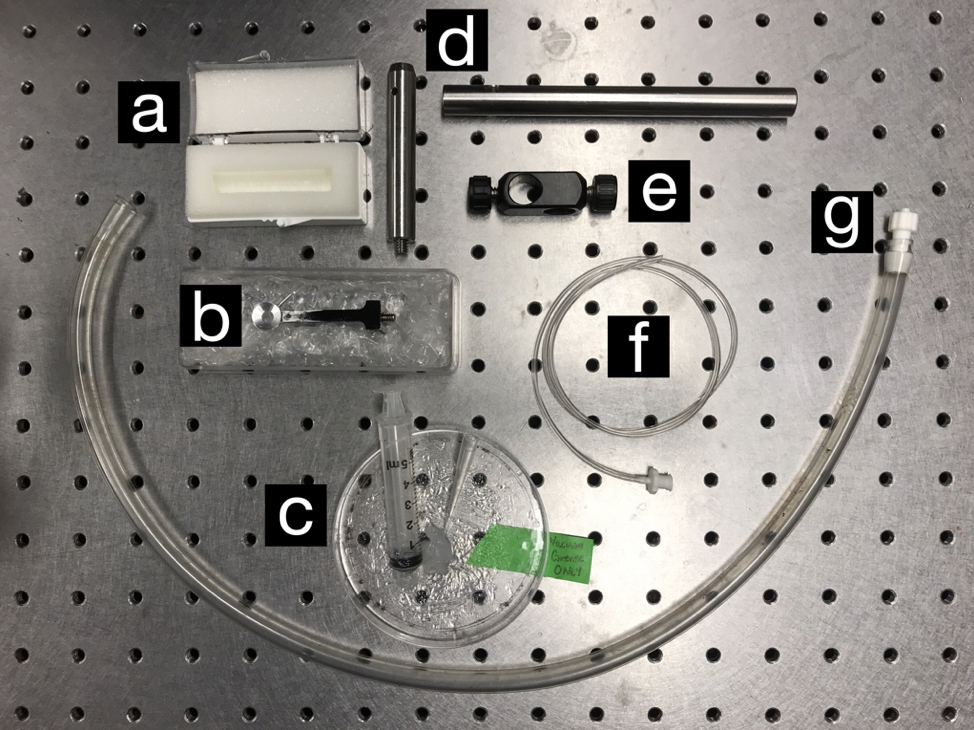 a. 12mm Coverslips
b. Vacuum Window (may be more than one)
c. Vacuum Grease. Make sure there is some (this doesn't stay in the kit…)
d. Posts. Make sure there is one long and at least one short post. Short post should have ¼"-20 screw in bottom. 8-32 screw is for smaller end of long post, generally left in the vacuum window for safe keeping.
e. Right Angle Clamp.
f. Tubing – Small (1mm ID, 3mm OD), with small hose connector.
g. Tubing – Large, should have large hose connector with luer-lock type connector end
The Vacuum Window Kit #2: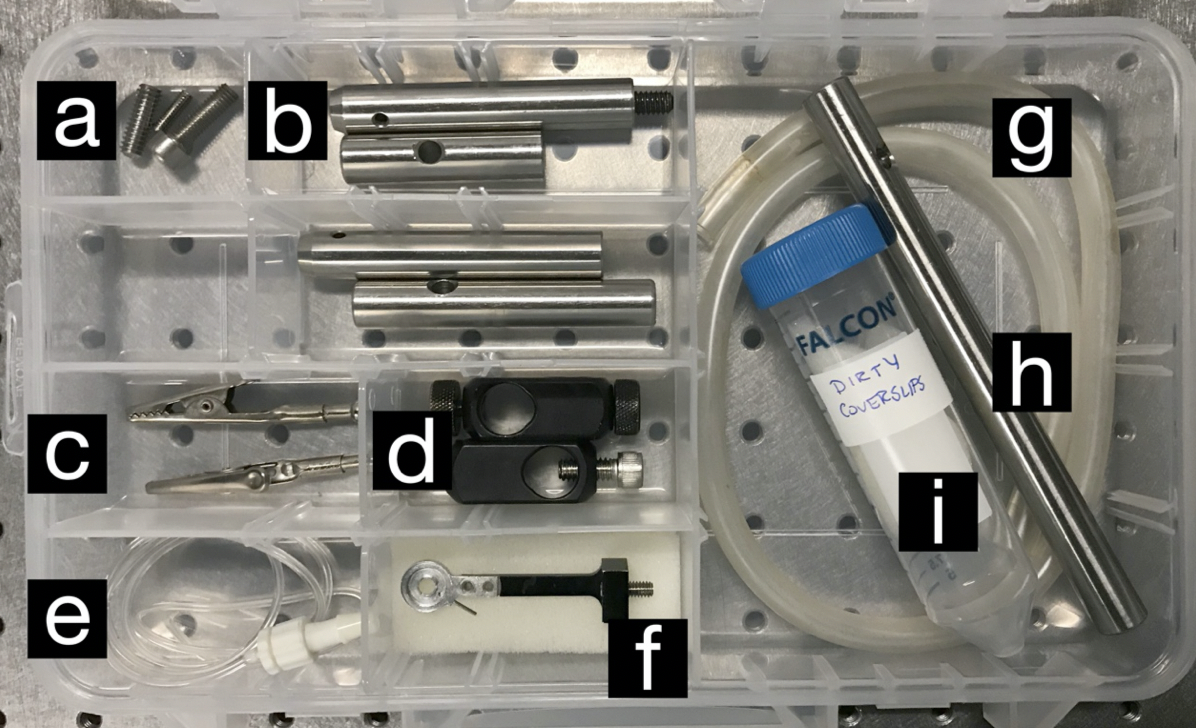 a. Extra Screws
b. Posts – at least 1 short and 1 medium length
c. Alligator Clips
d. Right Angle Clamps
e. Tubing – Small, with luer-lock type connector, both ends (small and large tubing)
f. Vacuum Window – should be free of blood and vacuum grease
g. Tubing – Large
h. Post – large
i. 12mm Round Coverslips
The Nosecone Kit: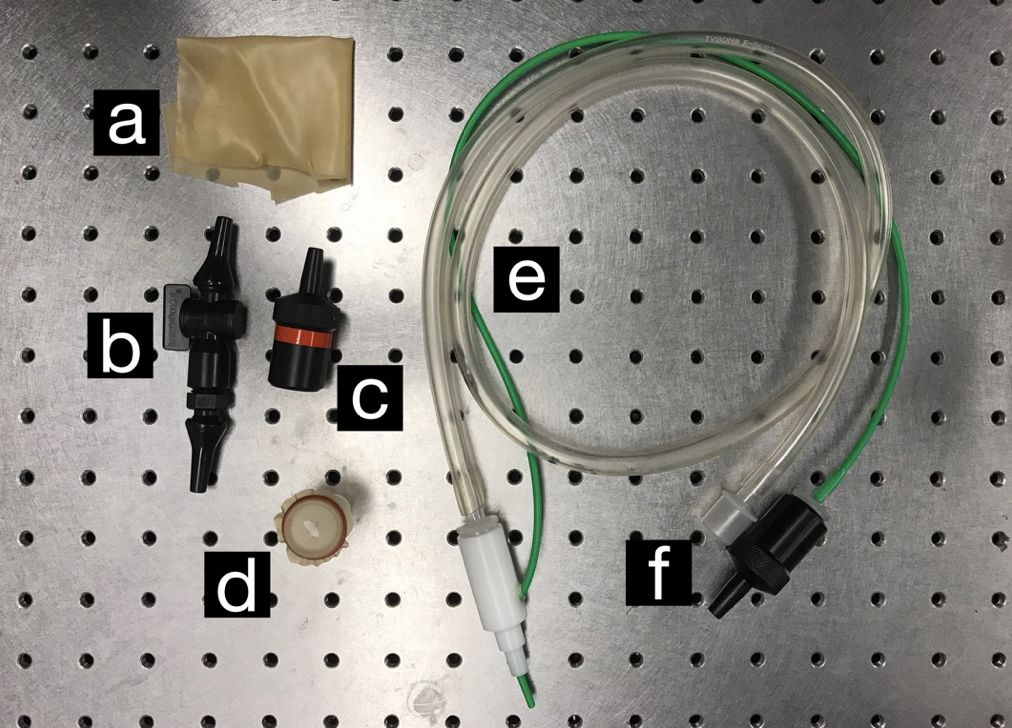 This kit is used to anesthetize mice during imaging.
a. Extra Latex (May be cut in circles already)
b. Stopcock
c. Adapter for Isoflurane Line (pictured is an extra, other on hose already)
d. Nosecone (check that opening is not ripped too large)
e. Tubing (should have adapter for nosecone)
f. Scavenger Adapter and Isoflurane Hose Connector
Every Millimeter Counts
The success of intravital imaging is largely dependent on the vacuum window and desired organ having the perfect fit.  Vacuum windows are specifically designed for each organ or tissue being imaged and are constantly being adjusted to improve imaging.  Below is an example (full paper here) of intravital imaging in a mouse lung using a specialized vacuum window with a 4mm viewing window and the example window designs.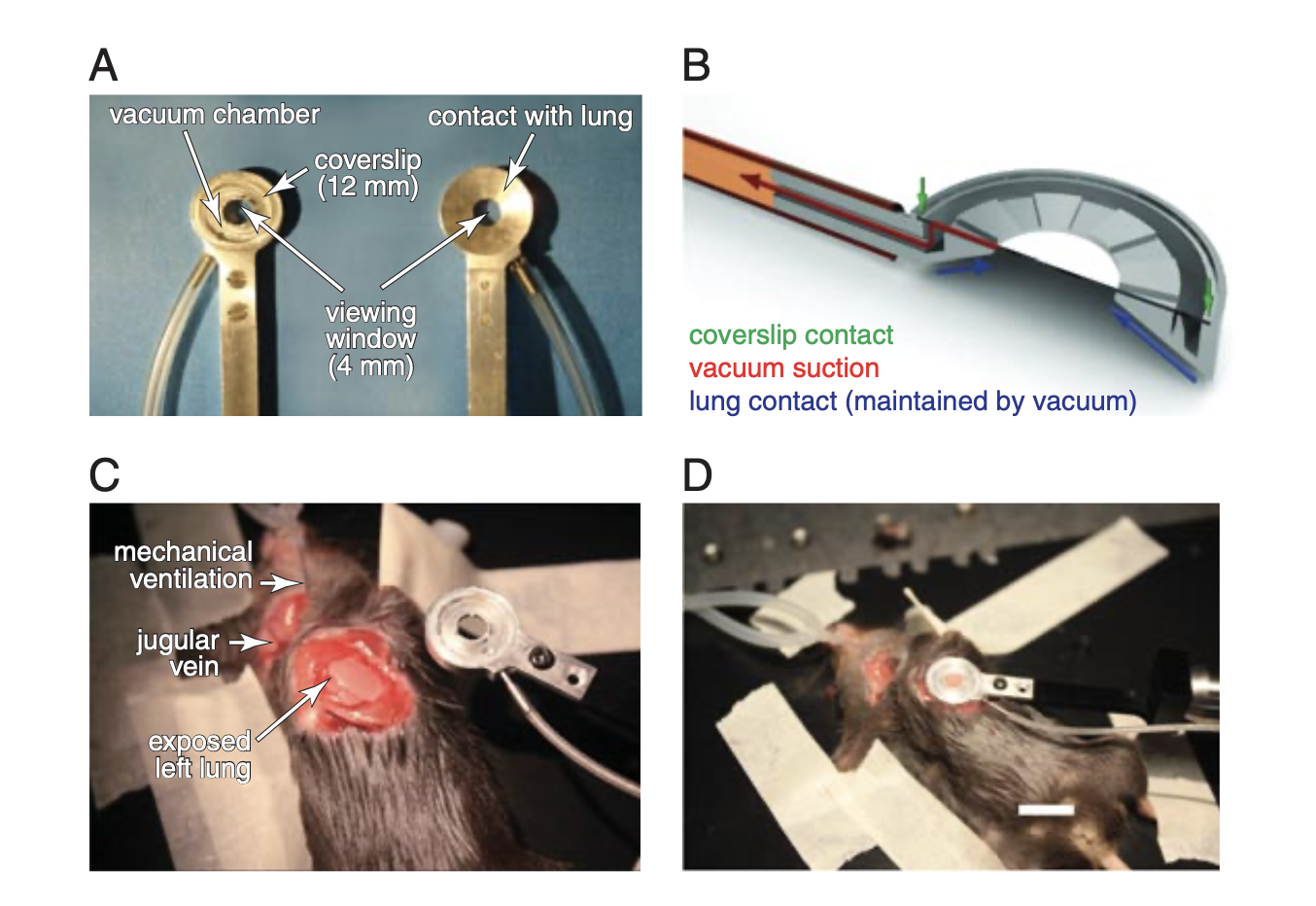 Thorton et al. (2012) Current Protocols in Cytometry.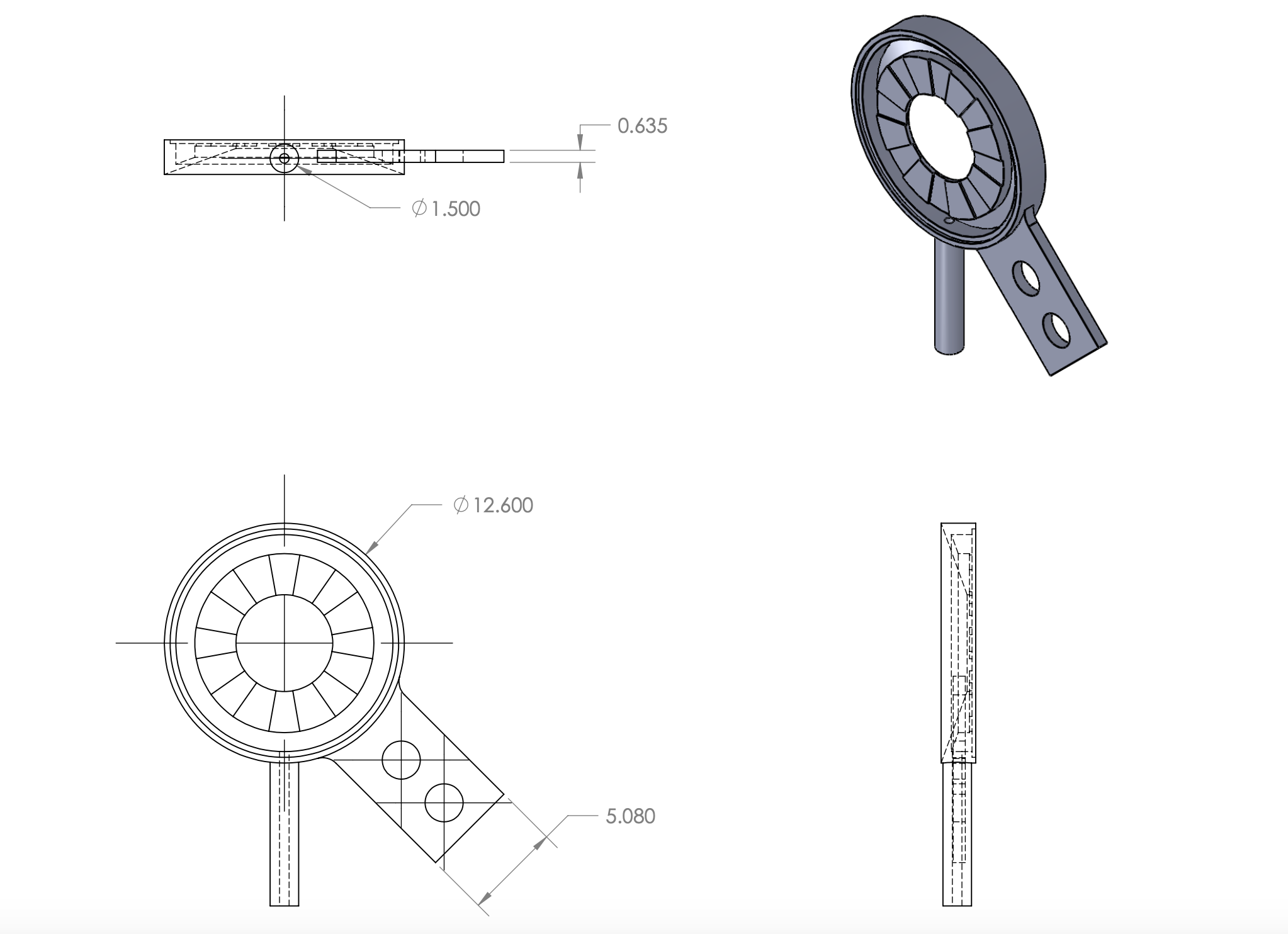 For intravital imaging in a mouse pancreas, the example vacuum window below was optimized to have a 7mm viewing window.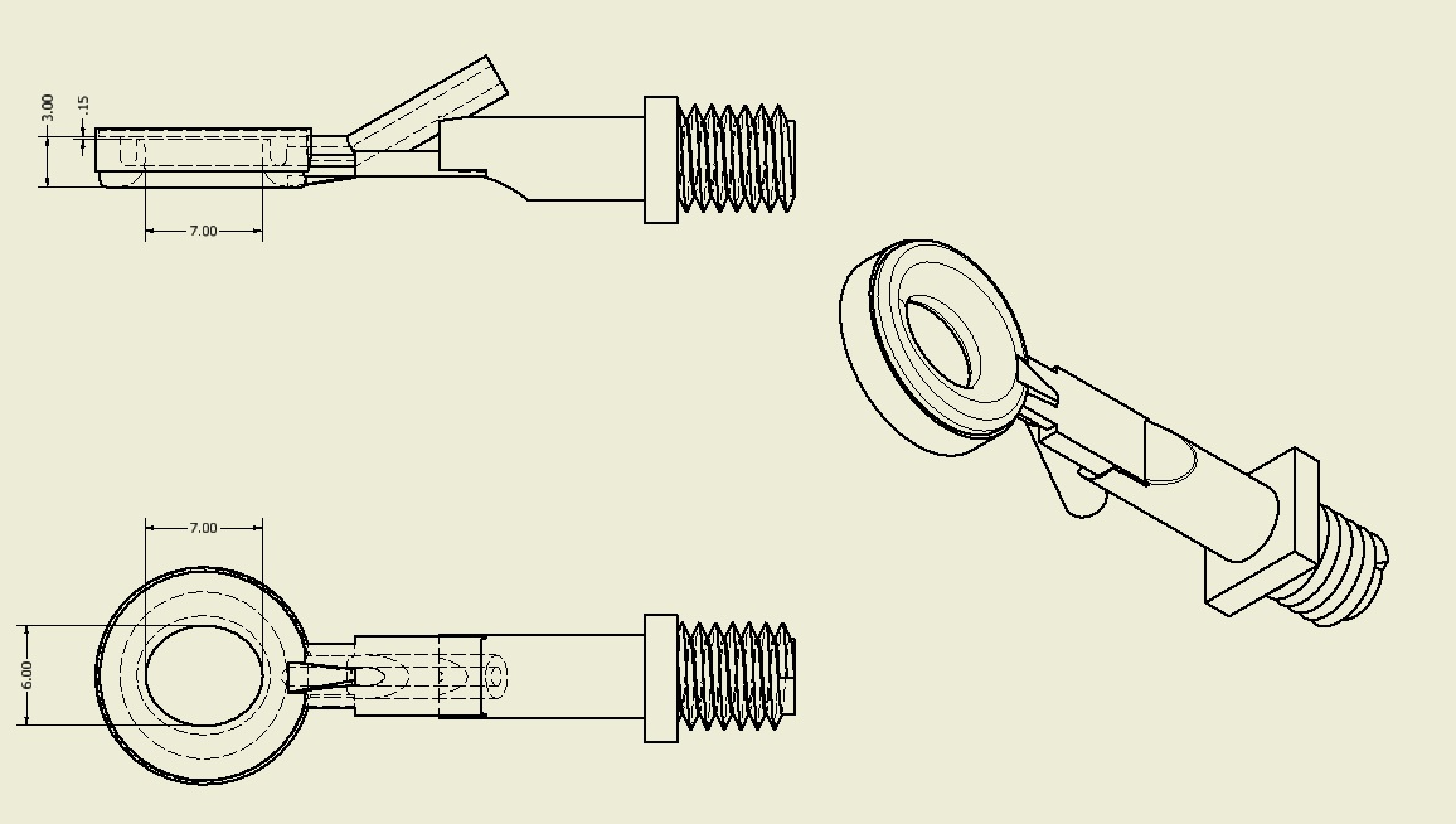 Intravital imaging on "Gen 3" in action!